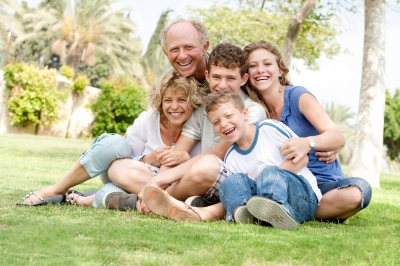 Family For Life
What You Should Do To Make Your Family Life Work?
Successfully making family life work is extremely important. You are playing part of the role and responsibility, how successfully you can do it is all in your own hands.
There are certain points that should be kept in mind if you want to have a happy family. Your kids and spouse are your family. Dictionaries define a family as a group of people in which normally two adults have a socially acceptable relationship with each other. They are married, having own kids who are related to each other either by blood ties or may have adopted the kids of other people.
This family unit is the most important group of people in anyone's life. You will be able to bear the rough and tough of life together if this group of people understands and they are able to give you the space in life which you need the most.
How you behave as a family is important. Close ties with each other will be able to make your life better and easier for each other. To build a strong character you need to have strong foundations. Members of family that are not close to each other are not very helpful in bringing positivism and courage in a person. The family unit is the demographic unit which provides this strength.
The concept of strong family ties as family unit are appreciated by all the cultures. From whichever part of the world you belong, the family unit is always important. Close ties between family members are important in making your personality thus it is important to retain this structure.
You should play your role in developing your family ties with other family members as it is important that the family unit must be preserved.
There are certain things which you should do to promote the family structure.
– Show love and affection you feel for each other.
– Make them know for sure that you love them. Feel the bonds within your heart.
– Give them surety that your love is unconditional.
– Have a very close bonding with the other members of your family.
– Creating understanding between each other.
– Give your family members all the love and care which you can give them.
– Understand their needs. Some family members may need a lot of space for themselves. If you want to have a close family you need to understand these requirements.
– Give your family members a margin to be wrong sometimes. This is very important as the psychologists say that it is a right of everyone to be wrong sometimes. If this is the situation, you must discuss the problem with your family member.
If the family members understand, there will be no problem for anyone and the relationships will become even stronger. People feel closer to each other due to the bond of love that exists between them. Understanding between people leads them to a growing love.
The actual keys to success are loving your spouse, siblings, kids and parents thus you will definitely help your family in becoming happier, and your family life will become a better experience for you.
      Click Here To Learn About~~~>> Positive Parenting G.O.L.D Standard
Other Reference Books That You May Interested, Click Book Covers To Learn More.
[easyazon-image-link asin="1408814242″ alt="They F*** You Up: How to Survive Family Life" src="http://ecx.images-amazon.com/images/I/51wLvFtdacL._SL160_.jpg" align="none" width="127″ height="160″]  [easyazon-image-link asin="0091923913″ alt="How Not to F*** Them Up" src="http://ecx.images-amazon.com/images/I/41mFVPBXPWL._SL160_.jpg" align="none" width="127″ height="160″]  [easyazon-image-link asin="0195204662″ alt="Families and How To Survive Them" src="http://ecx.images-amazon.com/images/I/51mogmL-vCL._SL160_.jpg" align="none" width="127″ height="160″]
[easyazon-image-link asin="0393024415″ alt="Siblings Without Rivalry: How to Help Your Children Live Together So You Can Live Too" src="http://ecx.images-amazon.com/images/I/513yrTgL3zL._SL160_.jpg" align="none" width="127″ height="160″]  [easyazon-image-link asin="1451663870″ alt="How to Talk So Kids Will Listen & Listen So Kids Will Talk" src="http://ecx.images-amazon.com/images/I/51kgtEGKZ1L._SL160_.jpg" align="none" width="127″ height="160″]  [easyazon-image-link asin="0380711346″ alt="Liberated Parents, Liberated Children: Your Guide to a Happier Family" src="http://ecx.images-amazon.com/images/I/51rJFco-%2BpL._SL160_.jpg" align="none" width="127″ height="160″]